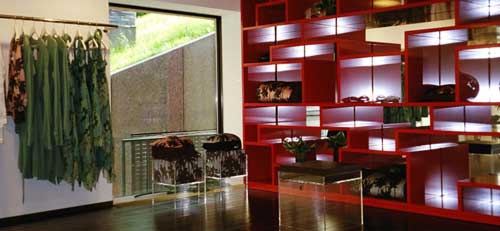 Gharani Strok have launched a luxurious new interiors line inspired by their clothing collection.

The line consists of sumptuous quilted silk bed throws and cushion covers, hand-stitched and edged with lavish fringing. The print is their signature Palm Tree inspired by 1970's Havana. It will become a staple part of the interiors collection and be available in two colour ways – Pink/ Chocolate and Blue/ Chocolate.

Further more, Gharani Strok have collaborated with Lebanese furniture designer Nada Debs and have produced a limited edition Gharani Strok for Nada Debs perspex stool in their signature palm print fabric.

The designers, Nargess Gharani and Vanya Strok, are renowned for their love of beautiful fabrics and are excited to be translating the eclectic mix of bold prints, colour and texture they use on the catwalk onto desirable pieces for the home.

The design duo are currently in the process of expanding this line further to incorporate more interiors items for launch early next year. Expect to see jacquard silk and cotton embroidered bed linen, printed towels and new fabrics and prints on throws.

Colours:
Pink and Chocolate or Pale blue and chocolate


Prices:
Gharani Strok for Nada Debs palm tree stool £470
Palm tree silk bed throw £630
Palm tree silk round cushion cover £104
Palm tree silk square cushion cover £146

The interiors collection is available exclusively at Live Wild at Heart in London, as well as through the Gharani Strok boutique in Zagreb, Croatia. (see Stockists for contact details).